Corn Store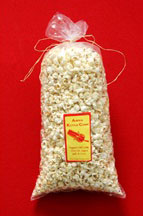 Contact
Gift Baskets and Favors
Event planners love to use Aspen Kettle Corn in their gift baskets.
Weddings in Aspen love to have Aspen Kettle Corn waiting for their guests as they arrive in the hotel or leave the reception.
Sometimes event planners will have us send bags without the Aspen Kettle Corn label so they can use their own customized label.
Catering
Bring Aspen Kettle Corn to your party!
We add a unique festive atmosphere to any party or event. We're professional and fun. Please contact us for more information.
Email us with your special requests. We would love to work with you!